The Eagles defeat the Lincoln Christian Crusaders 64-53 in the C1-2 sub district championship game. Congrats gentlemen! #milfordsoar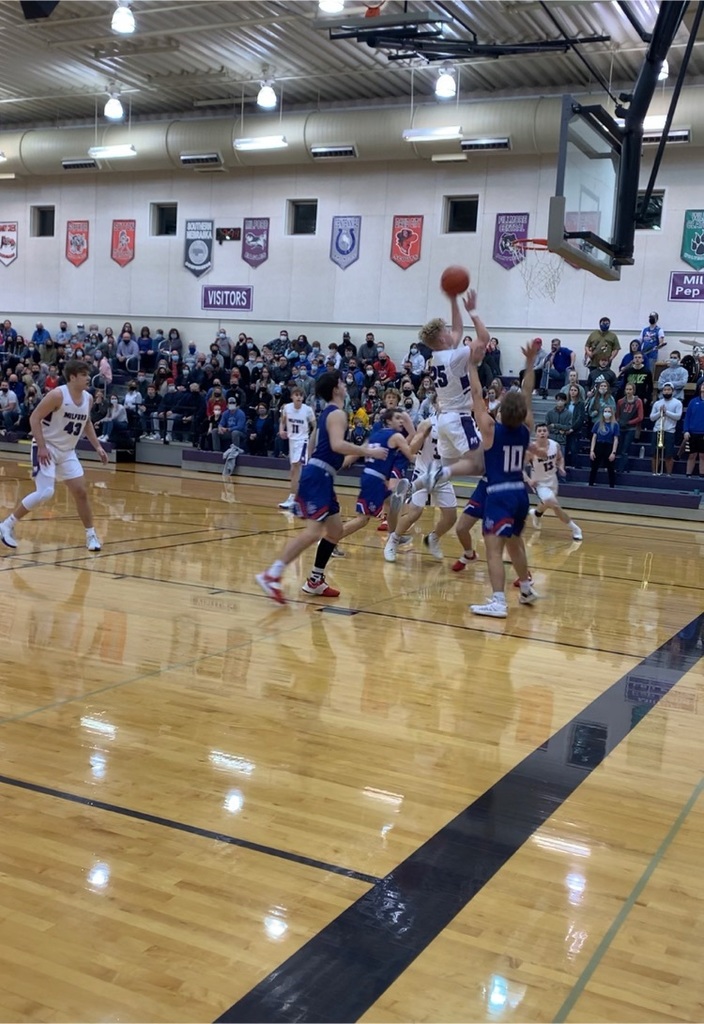 At the end of the 4th quarter the Eagles lead the Crusaders 37-36. #milfordsoar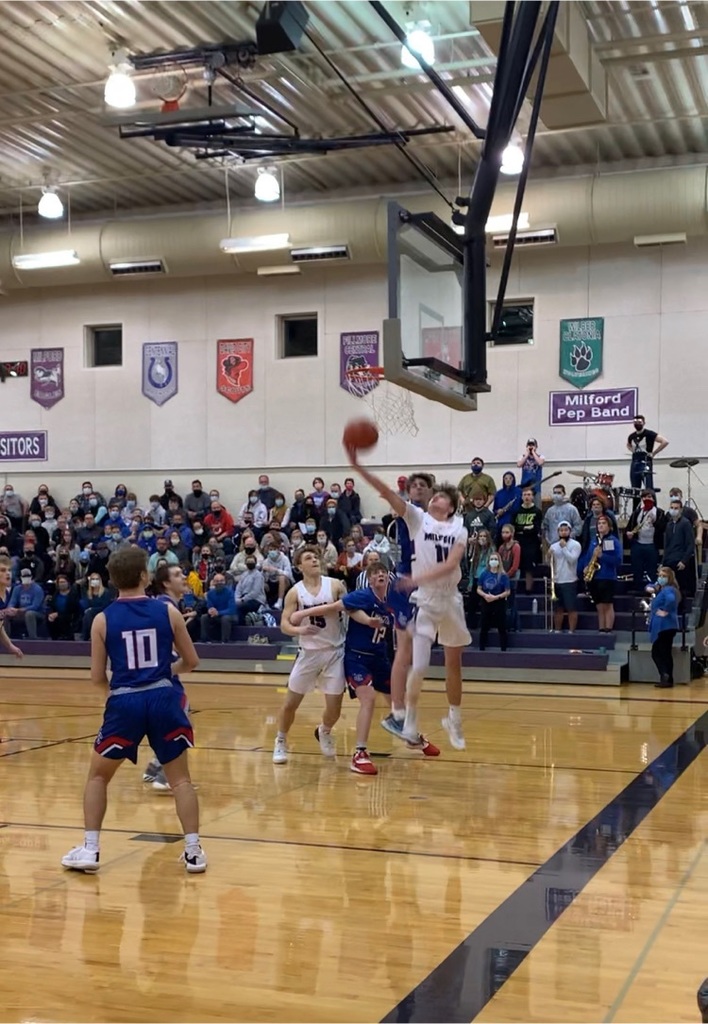 At the end of the first half the Eagles lead the Crusaders 31-26. #milfordsoar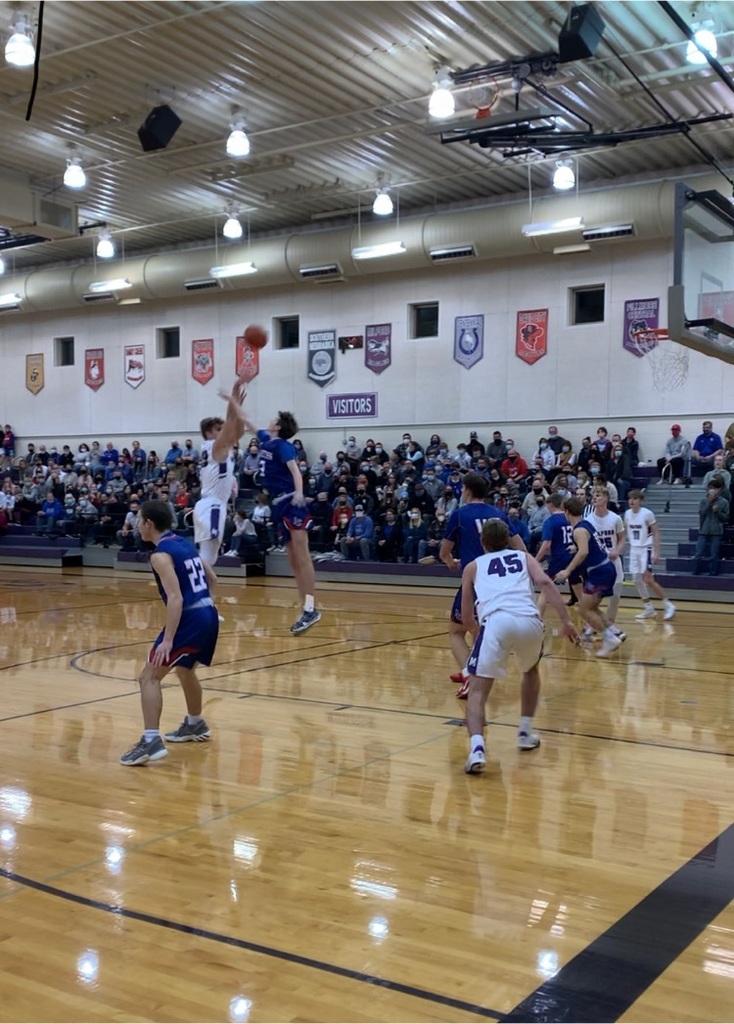 At the end of the first quarter the Eagles lead the Crusaders 16-15 in the C1-2 sub district championship game. #milfordsoar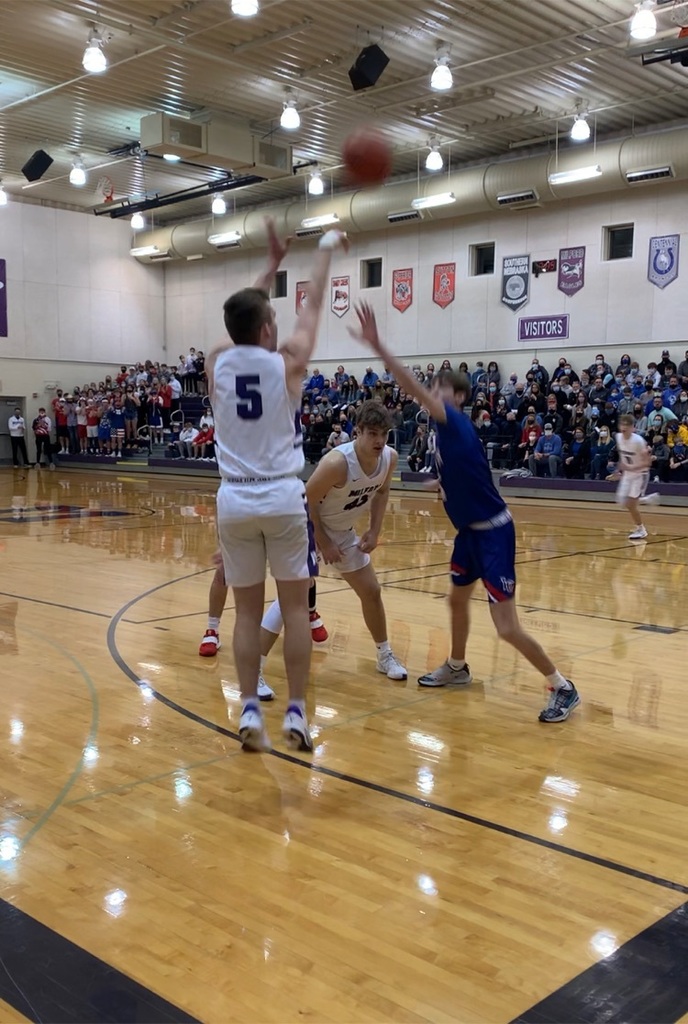 Consider being a Milford Fire Explorer! If you have questions please contact the Milford Volunteer Fire Department.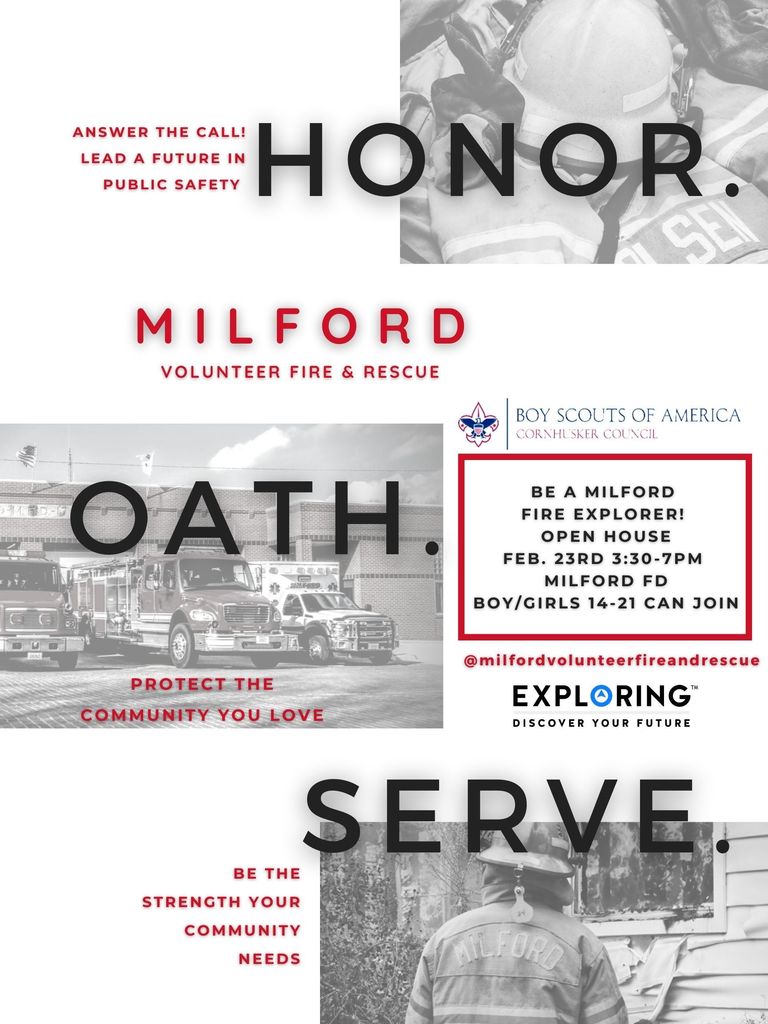 At the end of the first day of wrestling at the state championships the Eagles are in 4th place as a team with 41.5 points. The following wrestlers advance to Saturday: Semi Finalists - Konner Schluckebier and Eli Vondra 3rd Round consolation - Conner Kohout, Christopher Scdoris, Thomas Vance, and Hunter Oborny. The following wrestlers conclude their season and an attempt for a state medal Jack Chapman, Trent Stauffer, Carter Springer, and Lorenzo Temple. Good job men! #milfordsoar Wrestling starts at 1:00 pm tomorrow!
Menu Change at the elementary for 2/17/21. We will be having pepperoni pizza.

No school at MPS on Tuesday, February 16, 2021. #Milfordsoar

Tonight's JH M-club basketball tournament has been cancelled for February 15th. #milfordsoar

MPS will be closed Monday (2/15/21) due to forecasted cold and drifting snow on the county roads.
The K Kids Club concluded their annual "Souper Bowl Challenge" for 2021! Students from Milford Elementary overwhelmingly donated items and the K Kids Club was able to collect 341 food items for the Milford Food Pantry. Many students "cast their vote" for the Kansas City Chiefs, but it was the Tampa Bay Buccaneers that prevailed. Vivian, from first grade selected the winning team and won a Tampa Bay Buccaneers Championship t-shirt from the K Kids Club. Runner up, predicting the Bucs to win was Cat from third grade. She won the Buccaneers poster. Hoping that the Chiefs would repeat with a win, along with most MES students and super fan Mrs. Yeackley, was Tristen from sixth grade. He receives a Chiefs poster as a consolation prize. The K Kids Club would like to thank all the elementary students for their participation and supporting the Milford Food Pantry and making the Souper Bowl Challenge a success.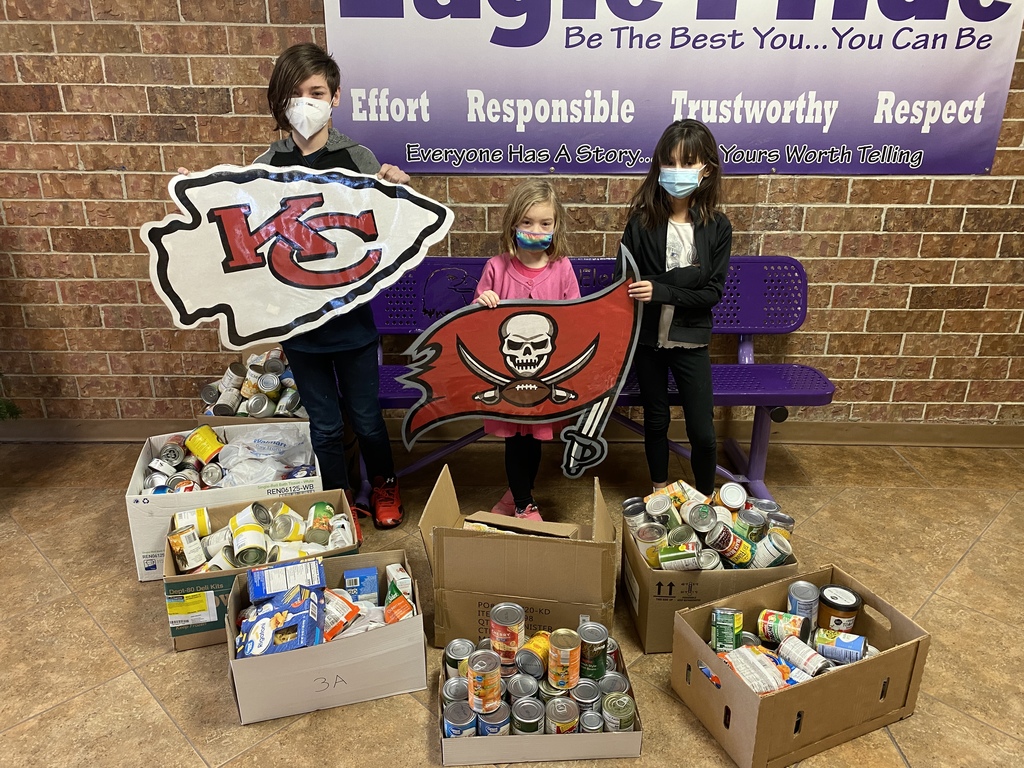 The second graders and fourth graders got together on Friday for a fun Valentine's Day activity! They read the story, A Valentine for Frankenstein on Epic and then collaborated on an art project! It was a fun afternoon for all!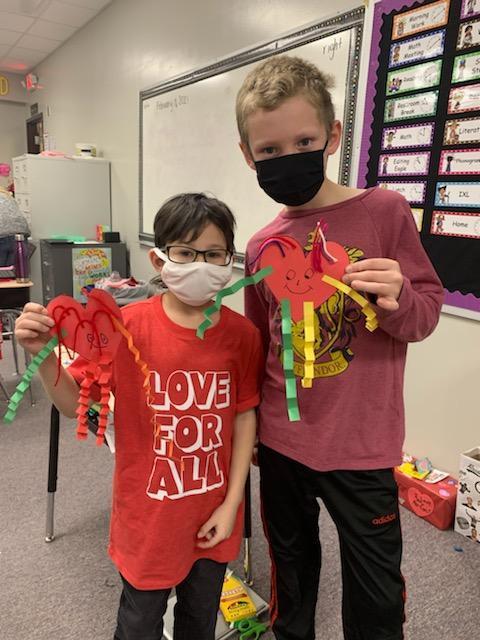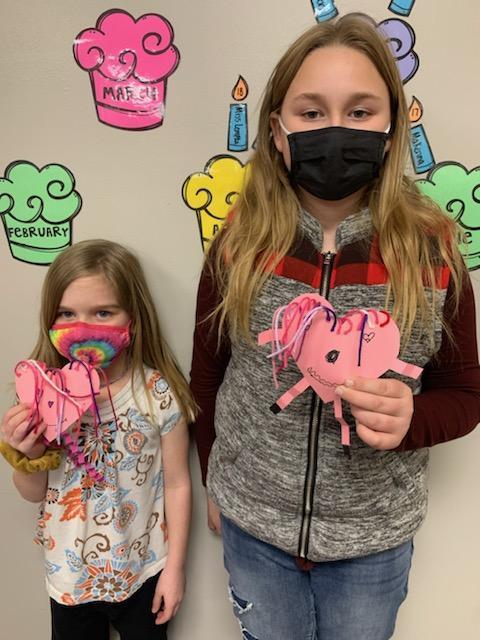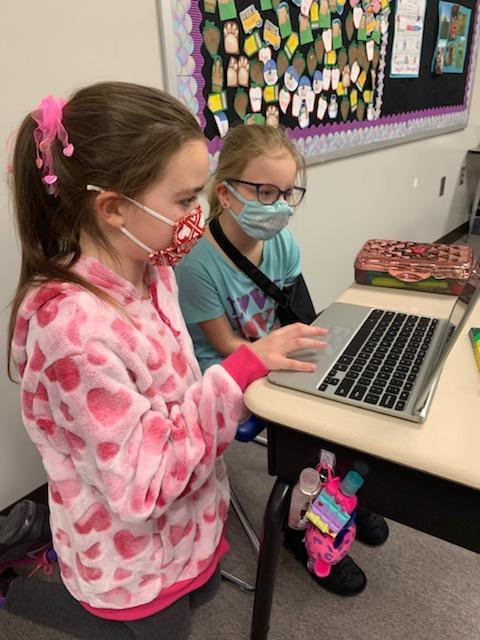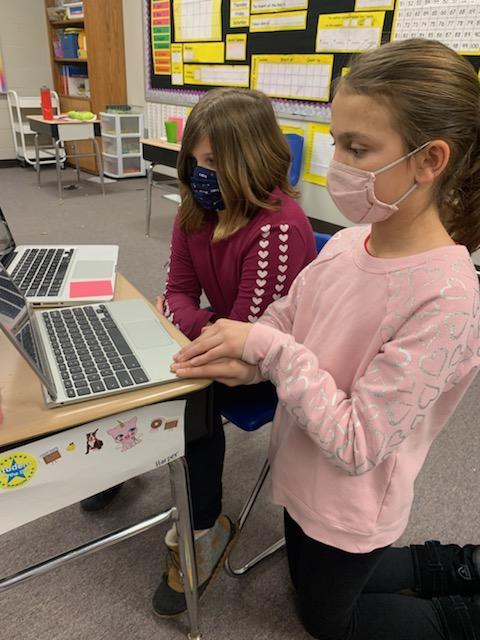 Consider being a Milford Fire Explorer! If you have questions please contact the Milford Volunteer Fire Department.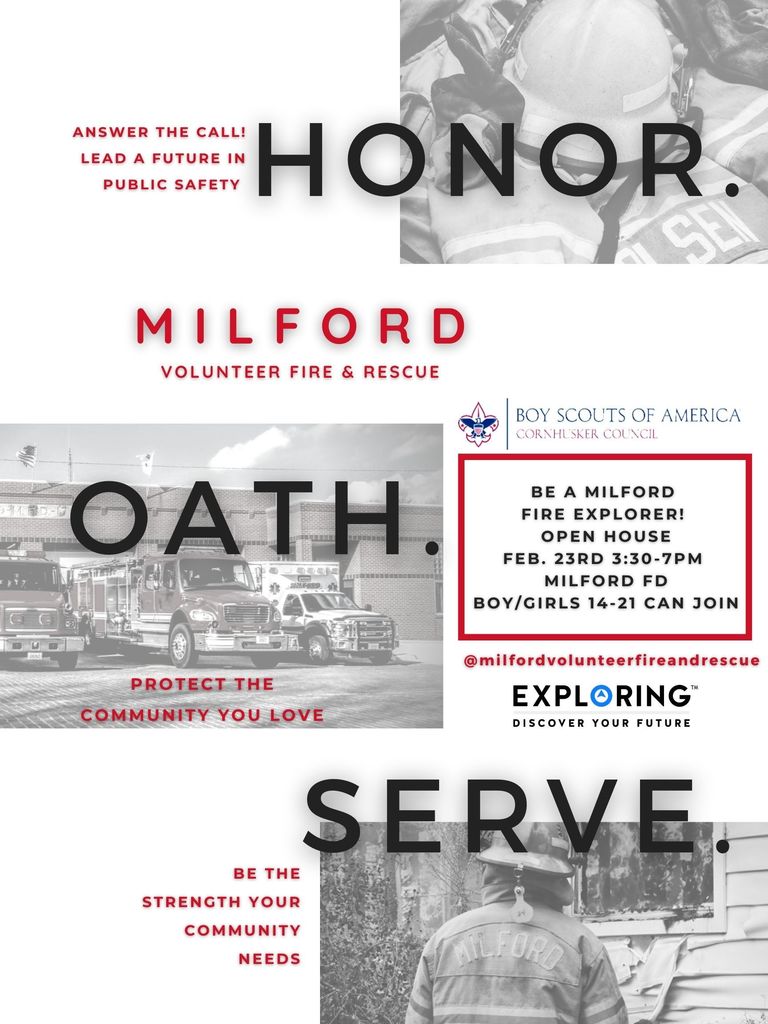 The Eagle girls defeat Sandy Creek 57-19. The Eagles will be back in action in sub district play on Feb. 16 vs Lincoln Lutheran at Malcom at 7:45 pm. #milfordsoar

At the end of the 3rd quarter the Eagle girls lead Sandy Creek 48-11. #milfordsoar

At the end of the first half the Eagle girls basketball team leads Sandy Creek 35-11. #milfordsoar

The Eagle boys defeat the Sandy Creek Cougars 62-36 to remain undefeated. The boys will play Boys Town on Saturday. #milfordsoar

The Eagle boys lead Sandy Creek 28-11 at half time. #milfordsoar

Milford Public Schools Part-Time Cook at Elementary School Applications are being accepted for a part-time cook position at the Milford Elementary School. The position is tentatively scheduled for 8:30 to 1:30 p.m., with additional hours possible. The position involves general food preparation and other related duties. Experience with large-scale food preparation is preferred but not required. Must be able to lift and carry objects weighing up to 50 pounds. Must be self-directed and take initiative, maintain a positive outlook and be motivated by your surroundings and the positive working conditions of staff and students. Starting salary is $11.00 per hour. Prior food service experience will be taken into consideration on starting pay based on the district's approved pay scale. Those interested in this position should send a letter of application stating qualifications to Kevin Wingard, Superintendent, Milford Public Schools, 1200 West First Street, Milford, NE, 68405 or email to
jackie.roth@milfordpublicschools.org
or drop off at the District Office. *Please note, MPS will have a similar position open at the 7-12 building in August for the 2021-22 school year.

Two of Milford's state officers for FCCLA presented to the Milford Board of Education and administration about their organization and the impact that career and technical education has had on them and the students of MHS! Great job Sophia and Cassidy you are great leaders and we are proud of you.