What a great week to be a #milfordsoar Eagle! Here is your Weekly Wrap-up for January 23 - 28.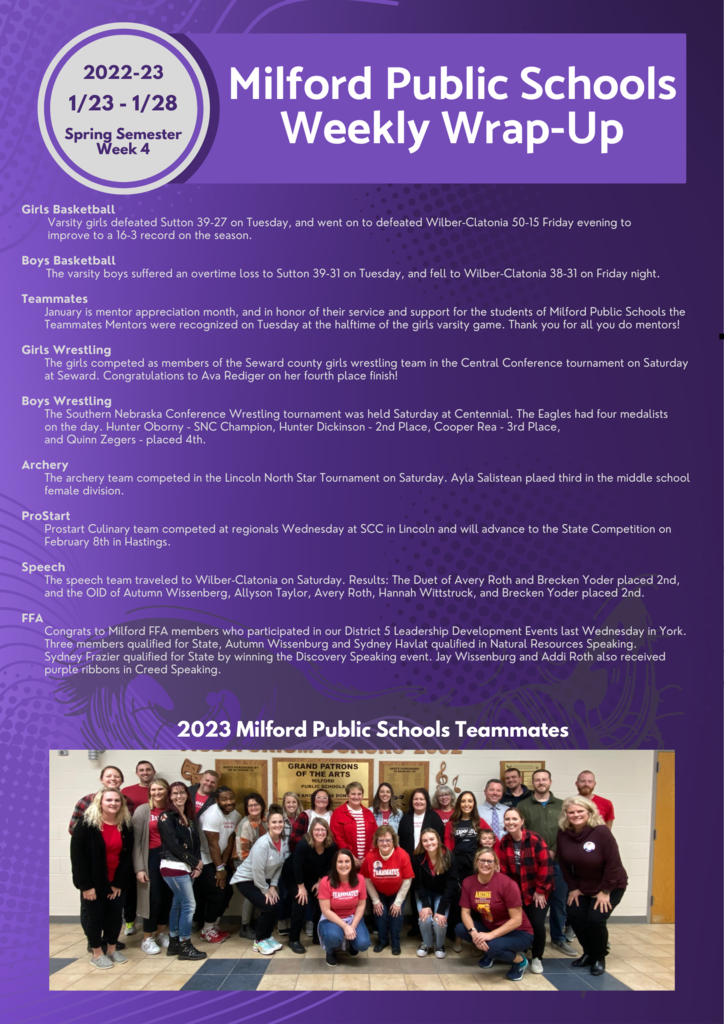 Here are #milfordsoar planned activities for January 30 - February 4. Go big M!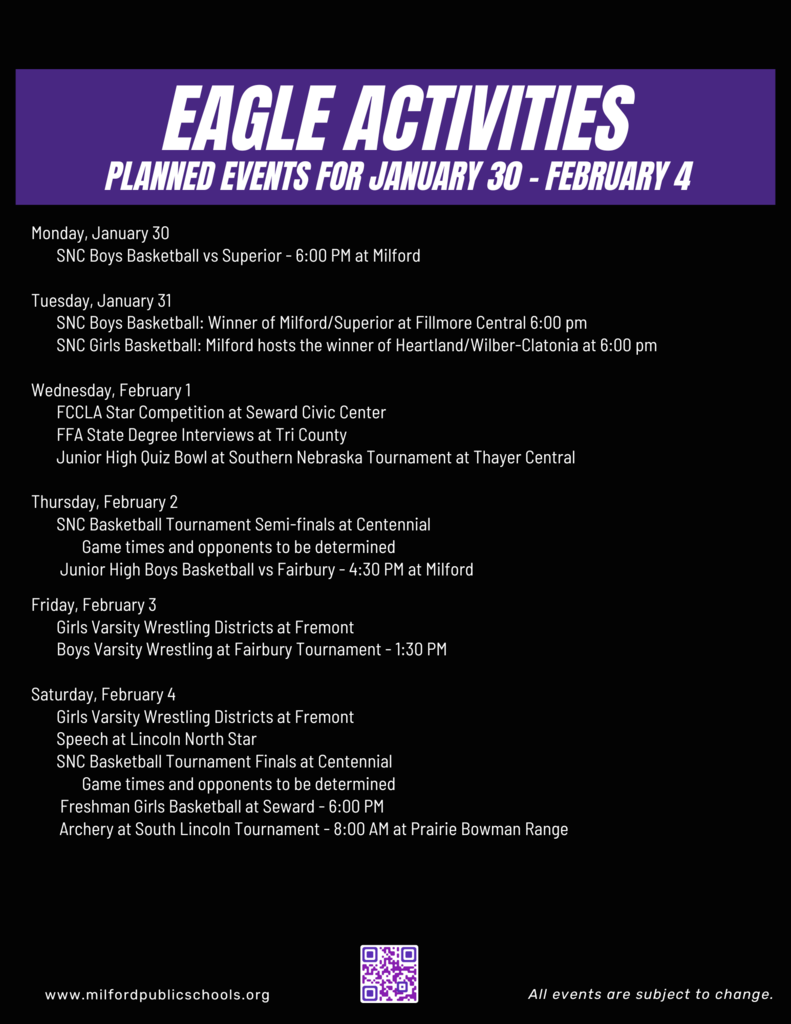 January is Mentor Appreciation month. The Milford TeamMates Program honored our 58 mentors with a soup supper and recognition at the halftime of the girls' basketball game on Tuesday. The TeamMates program would like to thank our mentors for their gift of time which is so valuable to our mentees. If you are interested in becoming a Milford TeamMates mentor please contact us at
milfordteammates@milfordps.org
. #milfordsoar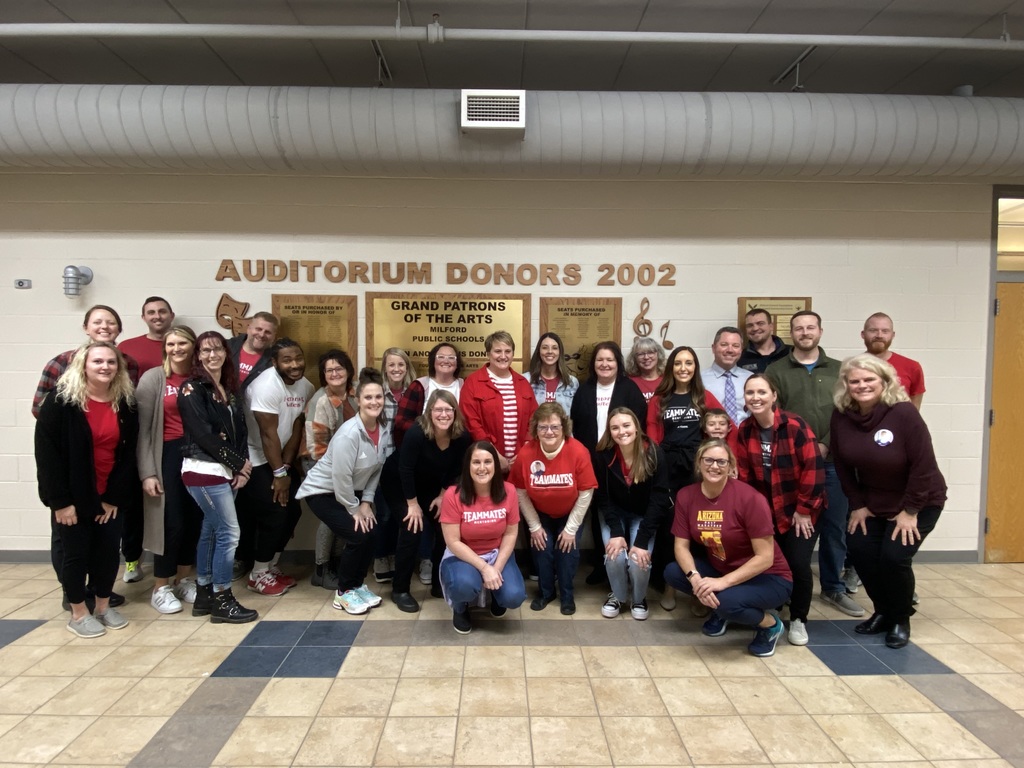 Multiple technicians from Black Hills Energy have inspected the Jr./Sr. High School building and have reported the building is safe for re-entry.  The technicians confirmed the odor was from a pilot light on a commercial oven as the unit went through the normal process of relighting.  There was no danger to staff or students. The Jr./Sr. High staff and students are returning to the building to resume normal activities.  Please contact the high school office with any questions. Thank you to all students and staff for your assistance and patience this morning.
Here is the Weekly Wrap-up for January 16 - 21. Have a great week! #milfordsoar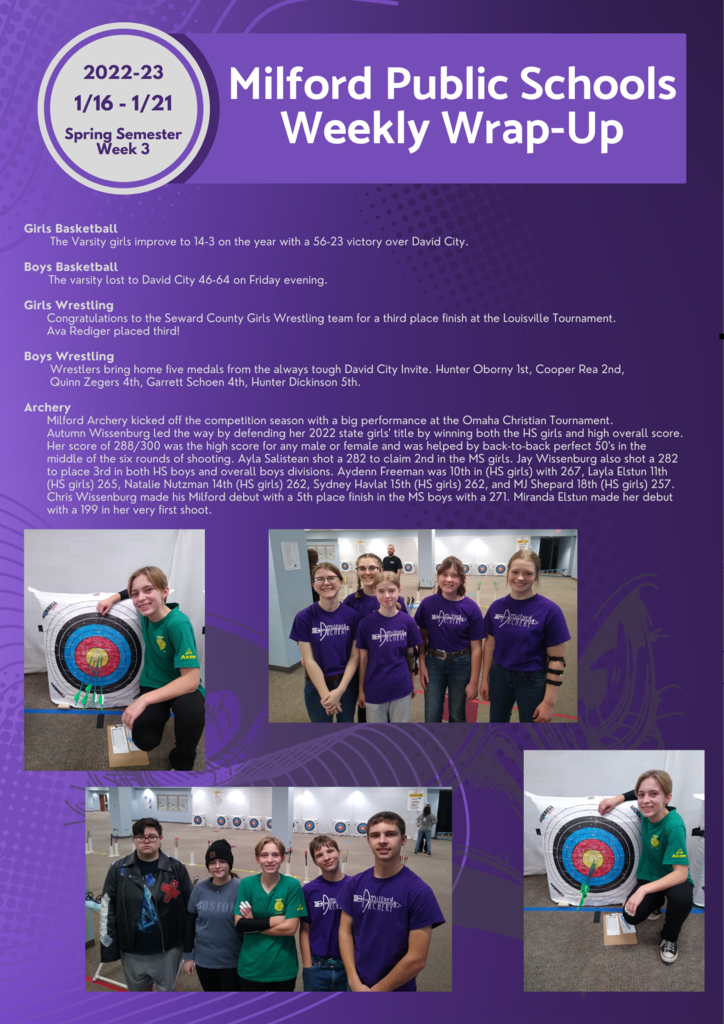 Here is the #milfordsoar Activity Planner for January 23 - 28. Go Eagles!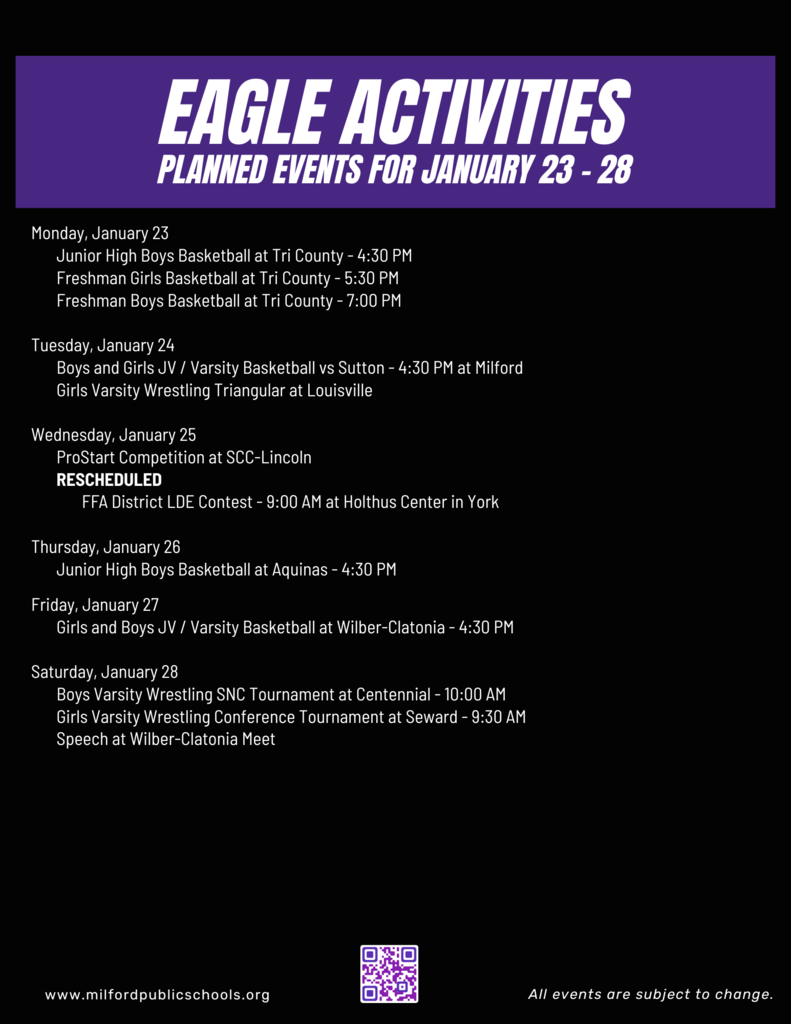 SCHEDULE CHANGE--No School at Milford Public Schools on Thursday, January 19, 2023.

Two-Hour Late Start for MPS on Thursday, January 19, 2023. No morning preschool and buses will run accordingly. Weather and road conditions will be monitored overnight and changes may be made to Thursday's schedule if necessary. Freshman BB tournaments have been postponed.

With district in a winter storm warning and the possibility of inclement weather throughout the day on Wednesday, January 18, 2023, there will be no school at MPS.
Athletic Booster Tailgate Friday, January 20 5:00 - 8:00 PM in the High School Commons. Meal Deals for $6 include a BBQ pork sandwich, bag of chips, fruit, dessert, and a bottle of water.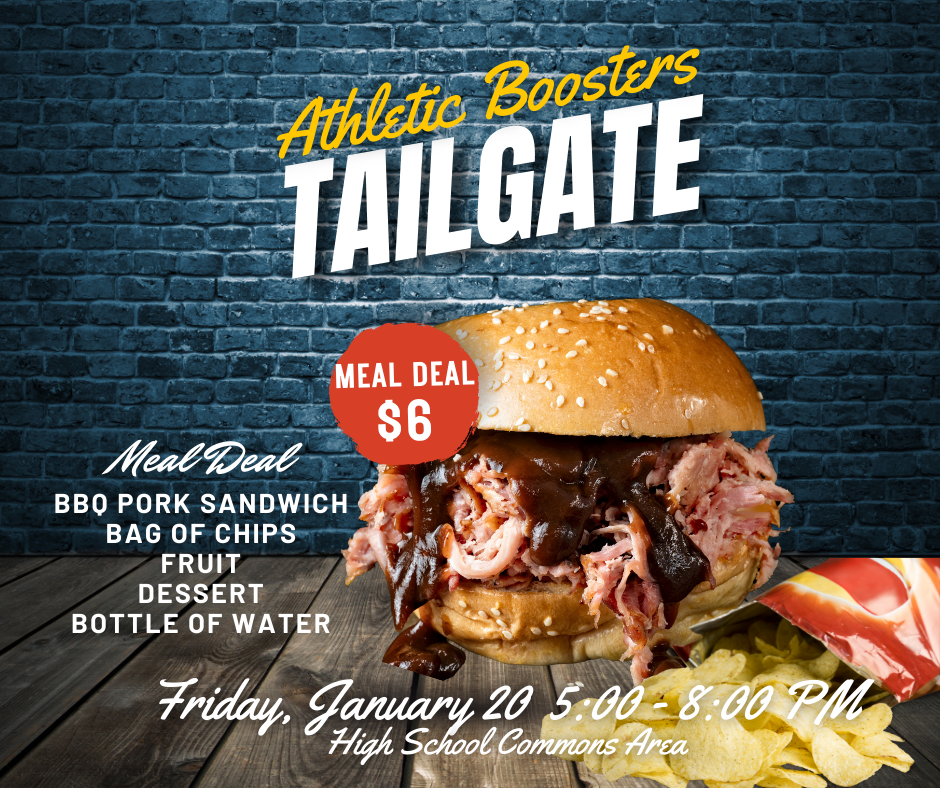 Here is the #milfordsoar Weekly Wrap-up for the second week of the second semester.
Raymond Central Speech Results: Avery Roth and Brecken Yoders Duet - 7th OID of Abigail Brinkmeyer, Layla Elstun, Veronika Johns, Natalie Nutzman, Chance Stutzman - 8th OID of Autumn Wissenburg, Allyson Taylor, Avery Roth, Addison Sample, and Brecken Yoder - 2nd #milfordsoar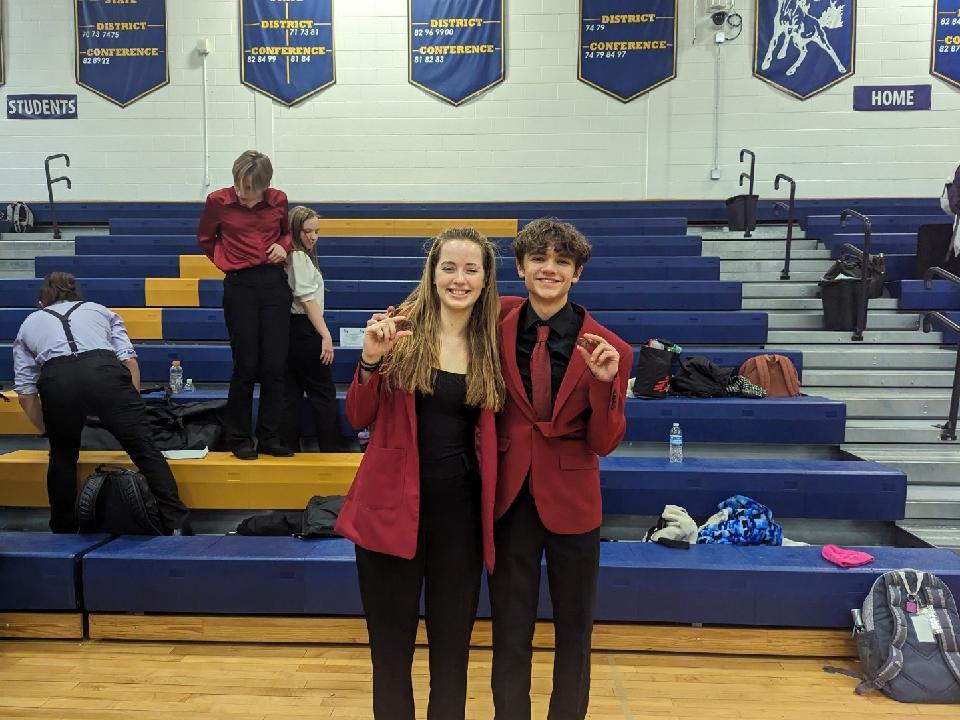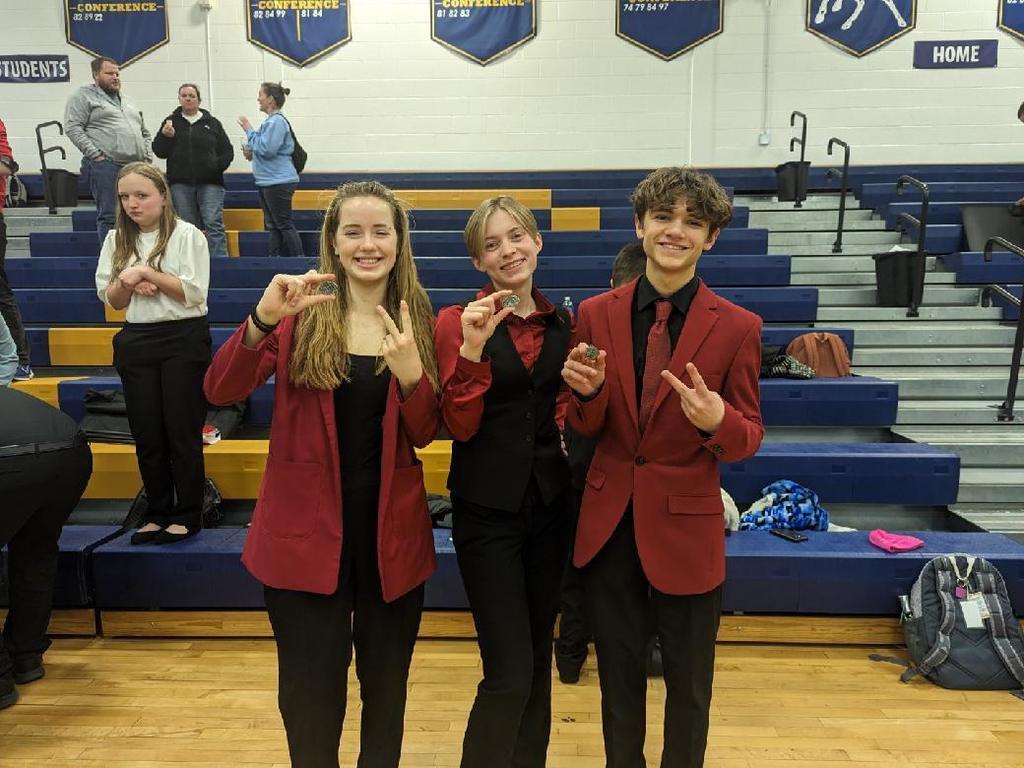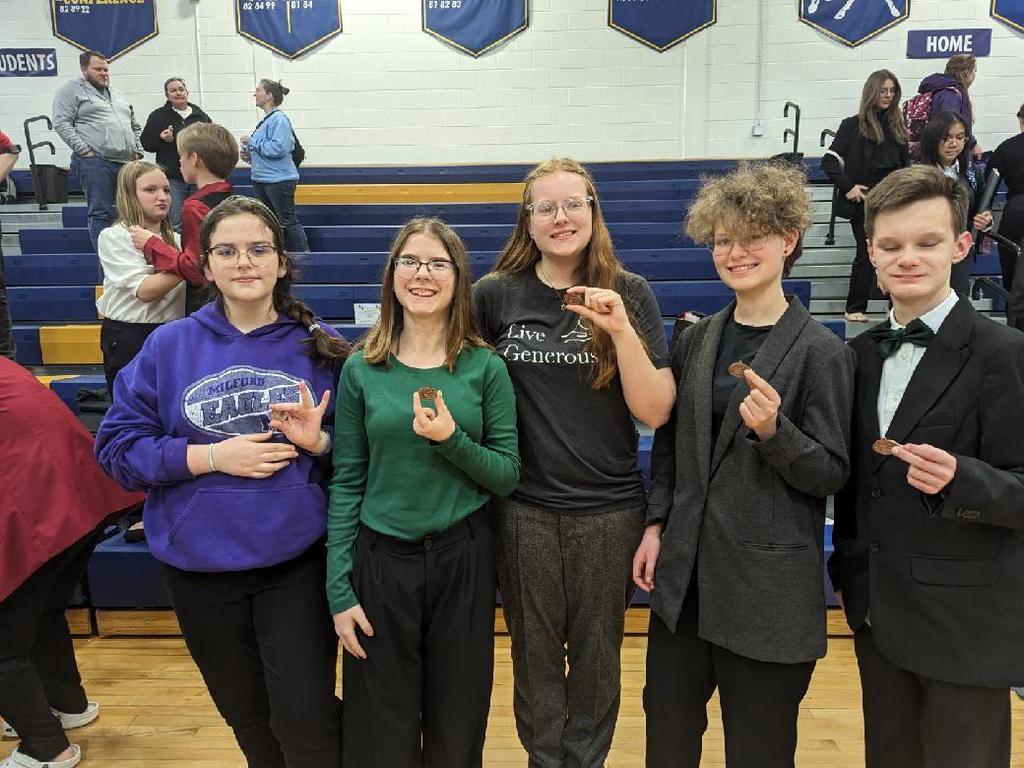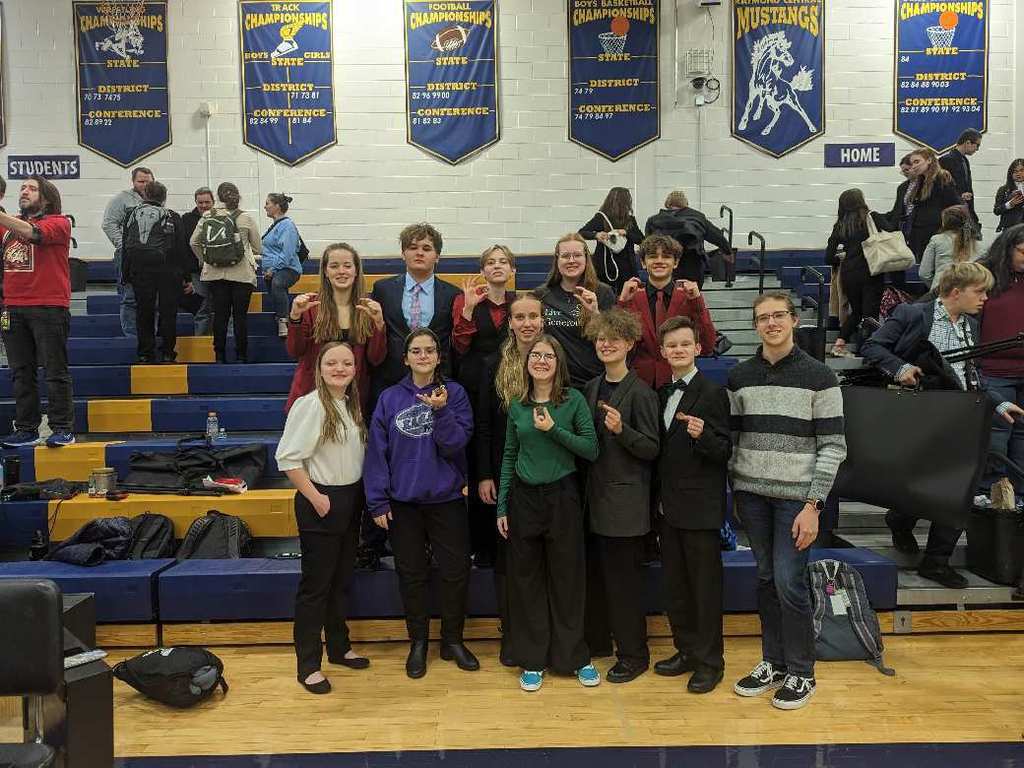 Here are the updated activities for January 16-21. #milfordsoar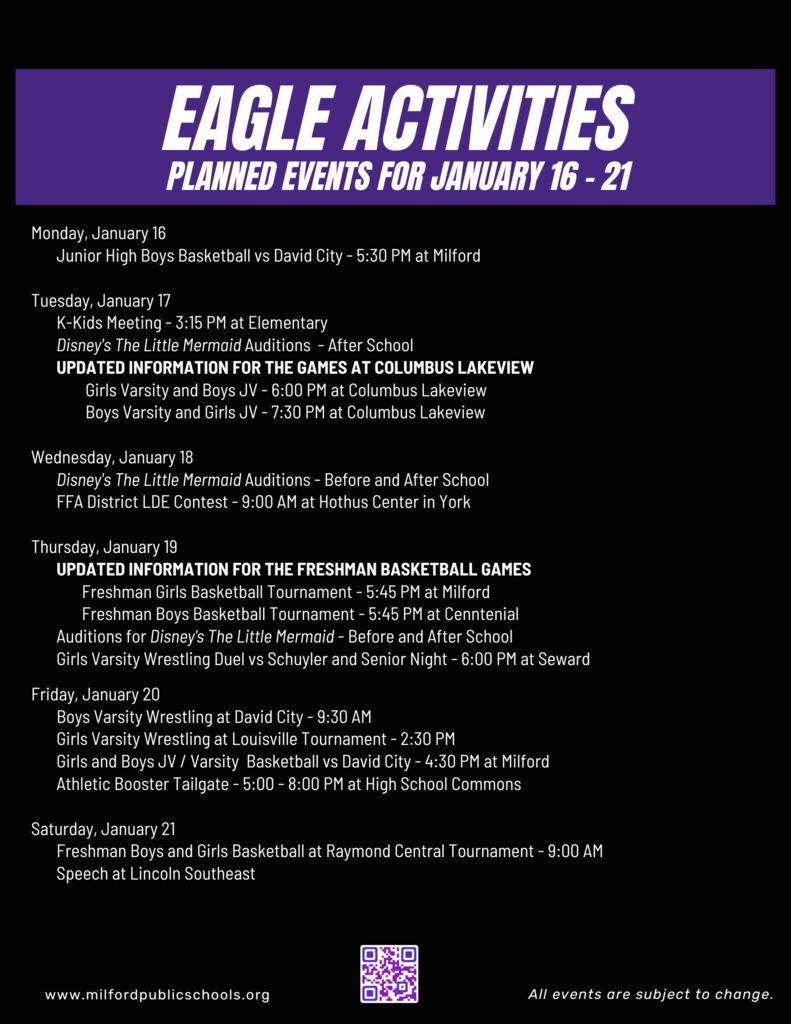 Please join us in welcoming Kadin Vrbas to the #milfordsoar family!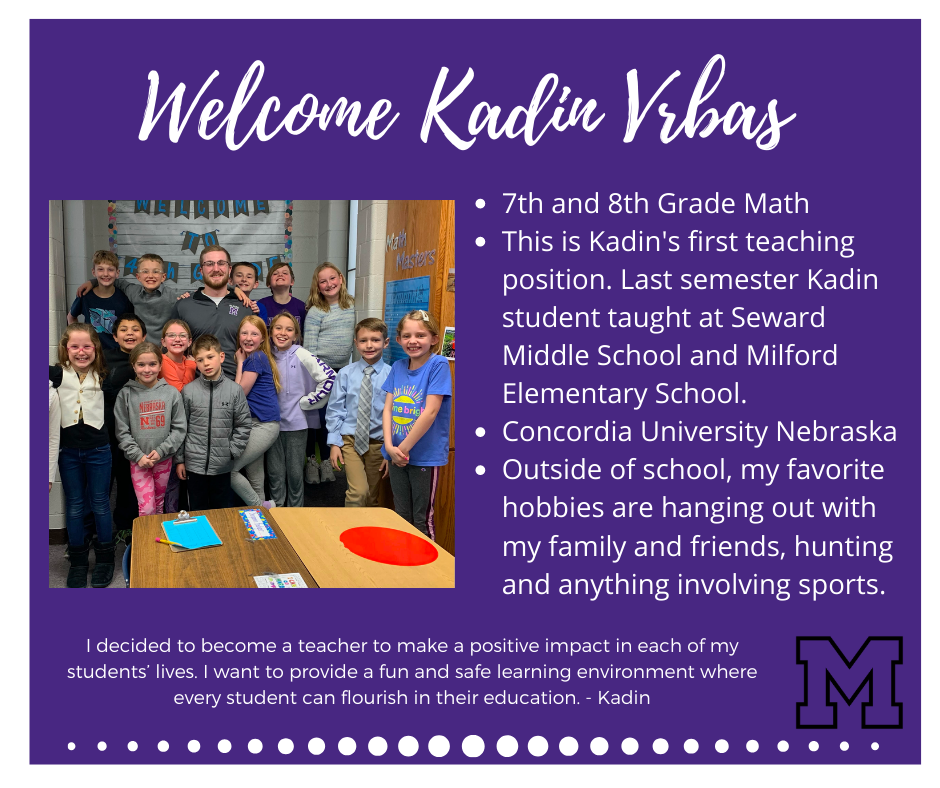 Here are your #Milfordsoar Activities planned for January 7 - 14. Have a great week!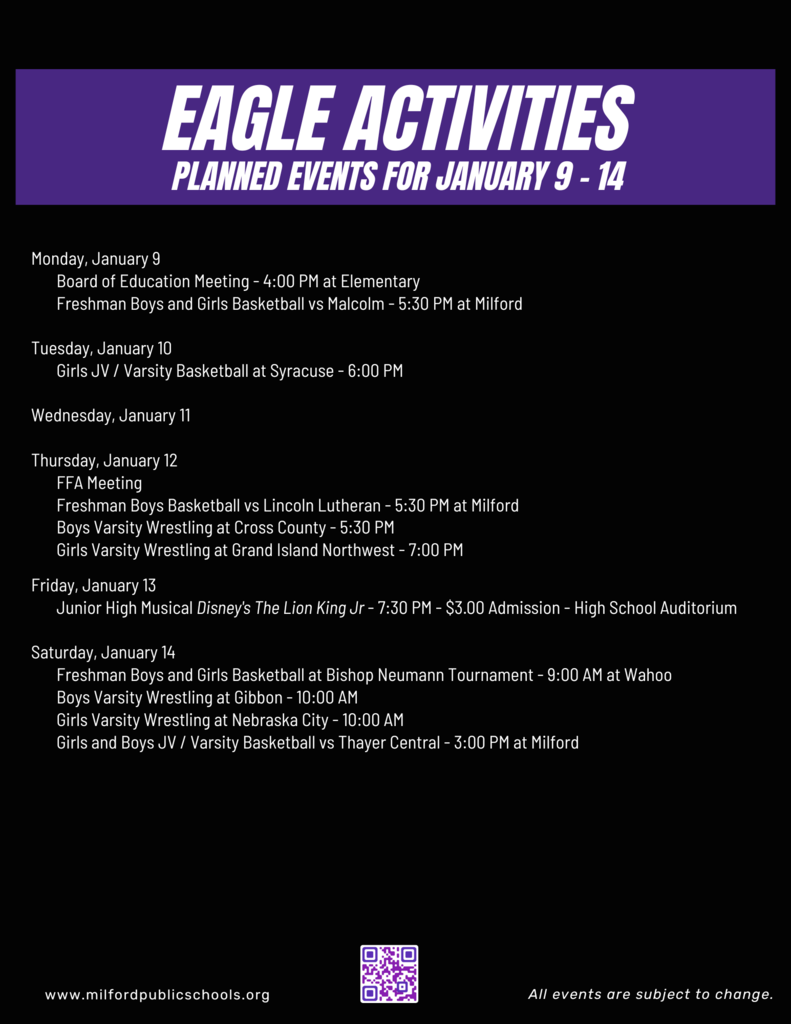 Correction: The January 5 basketball games are at Malcolm.

Welcome back #milfordsoar Eagles! Here are the scheduled events for the week!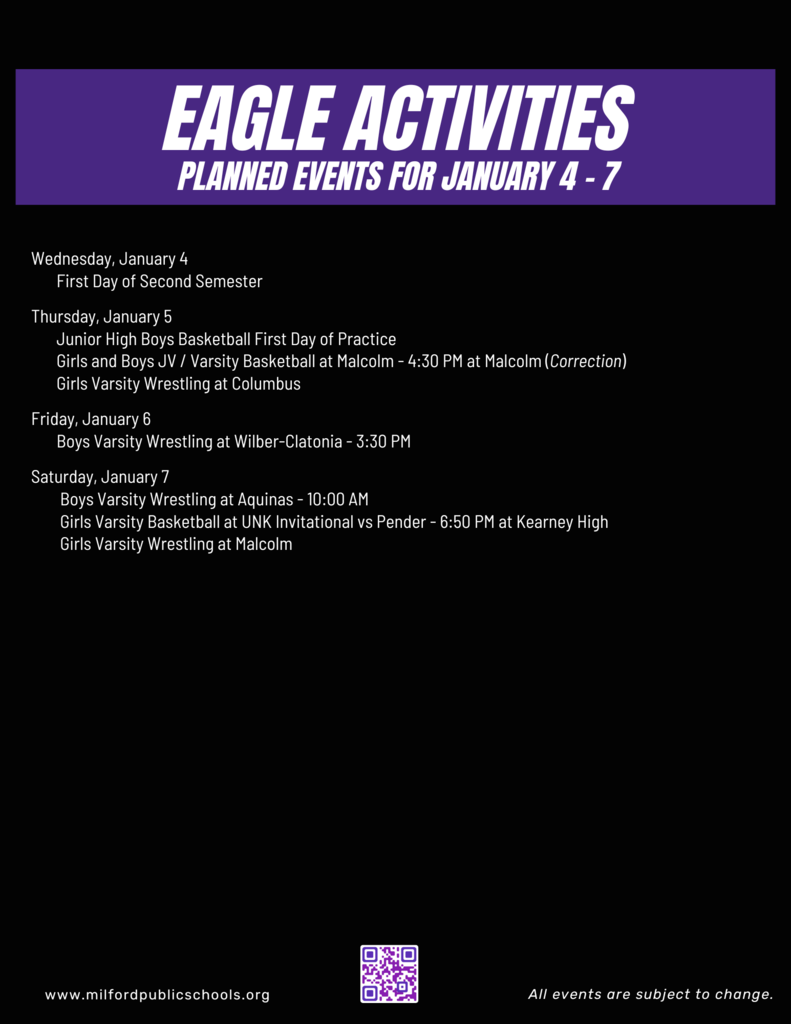 Here are the #milfordsoar activities planned for December 19 - January 7.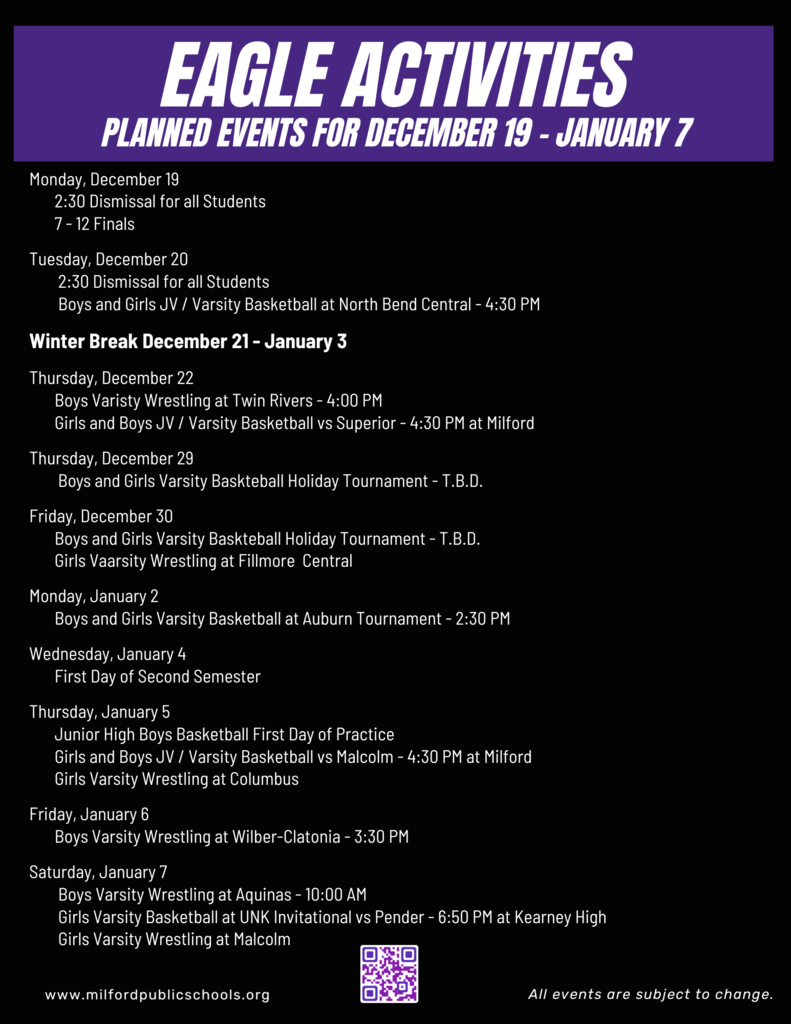 Here is the #Milfordsoar Weekly Wrap-Up for December 12 - 17.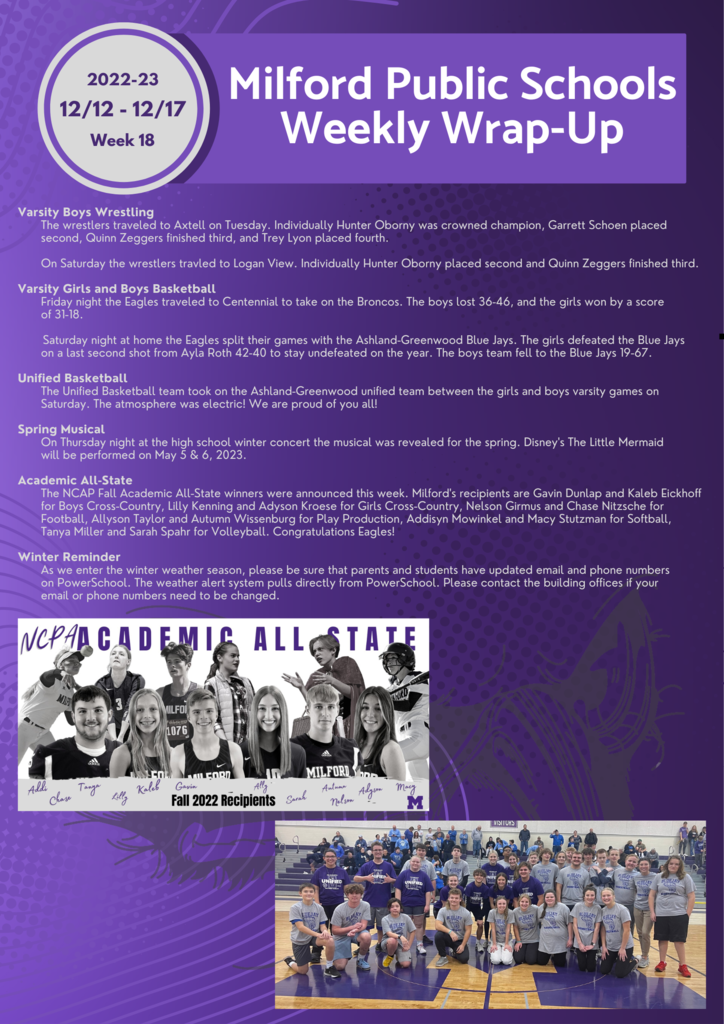 Students and staff at the elementary met in their Eagle's Nest group this week. The teams were challenged to build the tallest snowman using only marshmallows and toothpicks! Teamwork at its best!